Body Kits - Custom Truck & Car Body Kits - Body Kit Store


| | | |
| --- | --- | --- |
| ACURA | | CL, Integra, Legend, NSX, RL, RSX, SLX, TL, TSX, Vigor |
| AUDI | | 100 C4/S4, 80, 90, A3 8P 2005: SPORTBACK, A4/S4 2002-05, A4/S4 96-01, A4/S4 B7 06-, A6 2002-05, A6 98-01, A8, Allroad, Q7, TT |
| BMW | | E30 84-91 3 Series, E32 86-94 7Series, E34 88-95 5Series, E36 92-98 3 Series, E38 96-01 7Series, E39 96-2002 5Series, E46 99-05 3Series, E60 2003:5Series, E61 2003:5Series Wagon, E63 2005: 6Series, E63 M6, E90 2006 3 Series, Mini, X3, X5, Z3, Z4 |
| CADILLAC | | CTS, Escalade, Seville, Eldorado |
| CHEVY | | Astro, Avalanche, Aveo, Beretta, Blazer, Camaro, Caprice, Cavalier, C1500, Cobalt, Colorado, Corsica, Corvette, Lumina, Malibu, Monte Carlo, Pickup, Prizm, S10, Silverado, Suburban, Tahoe, Trailblazer |
| CHRYSLER | | 300M, Cirrus, Concorde, Crossfire, Lebaron, Neon, Pacifica, PT Cruiser, Sebring |
| DAEWOO | | Lanos, Leganza, Nubria |
| DODGE | | Avenger, Caravan, Charger, Dakota, Durango, Intrepid, Magnum, Neon, Ram, Stealth, Stratus, Viper |
| EAGLE | | Talon, Vision |
| FORD | | Bronco, Contour, Escape, Escort, ZX2, Excursion, Expedition, Explorer, F150, F250, F350, Focus, Mustang, Probe, Ranger, Taurus, Thunderbird |
| GEO | | Metro, Prizm, Storm, Tracker |
| GMC | | Canyon, Envoy, Jimmy, S15, Safari, Sierra, Sonoma, Suburban, Yukon |
| HONDA | | Accord, Civic, Si, CRV, CRX, Del Sol, Element, Odyssey, Passport, Pilot, Prelude, Ridgeline, S2000 |
| HYUNDAI | | Accent, Elantra, Santa Fe, Sonata, Tiburon |
| INFINITI | | FX, G20, G35 Body Kits, I30, Q45, QX4 |
| ISUZU | | Amigo, Hombre, Rodeo, Stylus, Trooper |
| JAGUAR | | S-TYPE, X-TYPE |
| JEEP | | Cherokee, Comanche, Grand Cherokee, Liberty, Wrangler |
| KIA | | Rio, Sephia, Spectra, Sportage |
| LEXUS | | ES300, GS, IS300, LS, LX450, LX470, RX, SC |
| LINCOLN | | Navigator, LS |
| MAZDA | | 626, 3, 6, Miata, B Series, Millenia, MX3, MX6, Pickup, Protégé, RX7, RX8, Tribute |
| MERCEDES | | C CLASS, E CLASS, CLK CLASS, CL, SL, SLK, M CLASS |
| MERCURY | | Capri, Cougar, Mystique, Tracer |
| MITSUBISHI | | Eclipse, 3000GT, Diamante, Mirage, Galant, Lancer, Evolution, Montero, Outlander, Starion |
| NISSAN | | 180SX, 240SX, 200SX, 300ZX Body Kits, 350Z, Altima, Armada, Frontier, Maxima, Murano, NX, Pathfinder, Pickup, Pulsar, Sentra, Skyline, Titan, Xterra, S13 SILVIA, S14 SILIVA, S15 SILVIA |
| OLDSMOBILE | | Alero, Aurora, Bravada, Cutlass, Intrigue |
| PLYMOUTH | | Breeze, Laser, Neon, Prowler, Sundance, Voyager |
| PONTIAC | | Fiero, Firebird, G6, Grand Am, Grand Prix, GTO, Sunbird, Sunfire, Trans Am, Vibe, Solstice |
| PORSCHE | | 987 Caymann, 993, 996, Boxster, Cayenne |
| SATURN | | Ion, SC, SL, Vue, SKY |
| SCION | | Tc, xA, xB |
| SUBARU | | Baja, Forester, Impreza WRX, Legacy, Outback, SVX |
| SUZUKI | | Aerio, Esteem, Samurai, Sidekick, Swift, Vitara |
| TOYOTA | | 4 runner, Camry, Celica, Corolla, Echo, Land Cruiser, Matrix, MR2, Paseo, MRS, Pickup, Rav 4, Sequoia, Solara, Supra, T100, Tacoma, Tercel, Tundra |
| VOLKSWAGEN | | Beetle, Corrado, EOS, Golf II 85-92, Golf III 93-99, Golf IV , Golf V, Jetta II 85-92, Jetta III 93-99, Jetta IV, Jetta V 2005.5-, Passat 2002-2005, Passat 2006-, Passat 90-94, Passat 95-97, Passat 98-01, Phaeton, Rabbit 80-84, Scirocco II, T4 eurovan, Touareg |
| VOLVO | | 850, C70, S40, S60, S80, V40, V70, XC70, XC90 |
Body Kits for Cars, Trucks, & SUVs — BodyKits.com Has Everything You Need
BodyKits.com offers the lowest prices on the highest quality import and domestic custom car parts found on the market today. Whether you're looking for car, truck, and SUV full body kits or individual exterior upgrades such as ground effects, fiberglass fenders, carbon fiber hoods & trunks, and more, you'll find the widest selection of auto body kits available online along with quality parts at value pricing. The results you get from our kits depend on what parts you equip. If you're looking for bolder, higher quality lighting, try installing euro tail lights or a set of projector headlights. If you'd prefer to upgrade to a sleeker exterior design, you can equip anything from lambo doors to car spoilers. And for full kits themselves, BodyKits.com is an authority on aftermarket body kits, offering the latest ground effects kits made of the following materials: FRP (Fiberglass Reinforced Plastic), CFRP (Carbon Fiberglass Reinforced Plastic) or Polyurethane.
We're also a premier online reseller for WingDoors, a revolutionary new style of lambo door conversion kits that go up to 90 degrees, with bolt-on and weld-on conversions available. Other aftermarket parts offerings range from Z3 fenders, wide body kits, and wings to side skirts, scoops, and both front & rear bumpers. Please note that all bumpers come pre-meshed (where applicable).
We offer name-brand merchandise from: Import Trenz, JP Vizage, addCarbon, Tsunami, Tourenn, Wings West, Extreme Dimensions, RK Sport, ViS Racing, AIT Racing, Erebuni, & Grip
We carry the following available styles: Saleen, Bomex, Blitz, Buddy Club 2, Combat, Drift, Extreme, Feels, & More
Are you a car tuning enthusiast seeking a one-stop-shop for everything body kits? If so, bring your car to life with a new body kit that will totally change the look of your car. Custom body kits allow owners to subtly or dramatically alter the exterior appearance of their vehicles depending on personal preference, transforming once-generic cars into edgy custom cars. At BodyKits.com, we stock a wide range of aftermarket body kits designed to work on a variety of make and model-specific vehicles, and provide universal body kits as well that can be adapted to work on many different cars, trucks, and SUVs.
Extreme body kits don't have to mean extreme pricing.In fact, our kits for sale are priced very reasonably, when compared to other sites and online stores. Competitively priced and easy to use, browse around our store and you'll find what you need, whether you're after racing body kits or just want to spruce up the look of your car with complete body kits that replace your OEM body panels. We recommend complete body kits for drivers desiring a more thorough upgrade to their vehicle's exterior appearance, while those only seeking to touch up their cars can choose from a large selection of car body parts. Our store has everything from high quality hoods to sleek and stylish fenders in stock, so you can customize your car the way you prefer.
There are a lot of knock-off brands out there supplying customers with bad fitting car body parts, so at BodyKits.com we work hard to carry the best names in the industry. From Veilside body kits to popular sellers like Wings West body kits and Bomex body kits, you'll find reliable, brand name merchandise throughout the store.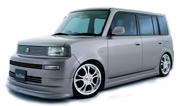 Even if you have a pick-up truck, we've got the biggest assortment of truck body kits to choose from, so you don't need a compact car to take advantage of what's available.
Whether you're a fan of American cars or imported cars, you can find discount body kits to meet your needs. With everything from Chevy body kits, such as Cobalt body kits, to Volkswagen body kits and kits for other types of German cars available, we have you covered. Mustang enthusiasts rejoice as well, as we carry the latest Saleen body kits and Aero body kits for you! As far as imports go, a lot of Japanese body kits and other import body kits might require some extra tweaking to get them looking perfect, but with a little patience and mechanical know-how, most body kit pieces can be adapted to service your needs. Those aspiring to top-of-the-line performance and aesthetic appeal for their vehicles, however, may not be satisfied by your run-of-the-mill kits. For those vehicle owners, carbon fiber body kits are best suited for your ambitious exterior overhaul plans, thanks to the lightweight, yet durable material. Fiberglass body kits may be lighter, but carbon fiber versions are more durable over the long-term and won't break as easily upon impact.
From JDM body kit pieces that are designed to fit seamlessly with the rest of your car, to C West body kits and Black Widow body kits that may offer specific design elements beneficial to your car's appearance, you can count on BodyKits.com to have what you need in stock. Best of all, your final body kit selection will be shipped directly to your address for easy, hassle-free shopping that doesn't involve a trek to half a dozen different automotive stores in order to find exactly what you need. So whatever car or truck body kits you're after, we'll keep our eyes peeled for the latest in innovation and technology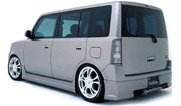 to bring you the best body kits available on the market today. How you customize your car with the kit you choose is up to you!